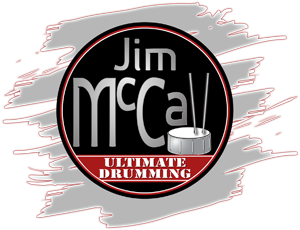 Jim McCall's ULTIMATE DRUMMING Clinics
Jim McCall is a longtime professional drummer, author and educator. He is considered by many to be one of the top drum educators in the country. His educational works have reached drummers all over the world and his playing has been heard by millions.
Jim McCall's Drum Clinic Format
"How you play" is the technique and physics of drumming.
"What you play" is the musical and artistic approach to drumming.
Both of these elements are necessary to become a complete and competent drummer/percussionist. Jim's unique but very logical concept on this subject will give clinic participants a fresh outlook for practicing and developing drumming skill.
Other clinic topics will include improvisational skills, applying rudiments to the drum set, drumming diversity for different genres, how to develop reading skills, counting and subdivision, coordination and independence, how to practice for best results and tips for auditioning. Also drum set up, drum tuning and equipment selection will all be discussed.
All of Jim's clinics will include an extensive Q & A session plus performances and demonstrations by Jim McCall on all subject matter covered in the clinic.
The main goal of a Jim McCall drum clinic is to promote the art form and inspire drum students. Jim's dynamic personality and teaching style delivers a really fun and exciting clinic environment that will leave participants wanting more With over 40 years experience as a professional player and educator, Jim McCall's drum clinics are guaranteed to motivate and encourage drummers everywhere. Its all about the pursuit of drumming excellence and pure musical fun.
Length of Clinic
Jim's clinics typically will run about 90 minutes. In the clinics, Jim divides drumming into two factors, "how you play" and "what you play."
Some of Jim's previous clinics include:
Drummers Showcase, Carson City, NV.
Brewery Arts Center, Carson City, NV.
Maytan Music, Carson Valley, NV.
Play Your Own Music, Carson City, NV.
PAS convention, George Mason University, Fairfax VA.
PAS convention, Catholic University Washington D.C.
University of Maryland, College Park, MD.
NOVA, Annandale, VA.
Drums Unlimited, Bethesda, MD.
Venemans Music, Rockville, MD.
Music and Arts Center, Woodbridge, VA.
Osborne H.S. Manassas, VA.
Langley H.S. McLean, VA.
Douglas H.S. Minden, NV.
South Tahoe H.S. South Lake Tahoe, CA
Jim's Educational works:
Ultimate Rock Drumming, worldwide distribution
Rudiments Around the Drum Set
Reading Rhythm book I
Reading Rhythm book II
Snare Drum Rudiments
Ultimate Latin Drumming
Over 100 educational videos at www.jimmccalldrums.com
Professional Credits include:
Jay Leno Band
Bill Cosby Show
Breck Walls Vegas Production "Bottoms Up" Music Director
Club Zulu, Music Director
Dick Clarks "American Bandstand"
Jon Stewarts Vegas Production "Legends in Concert"
Hayloft Dinner Theatre, "Tom Jones"
Staff Drummer "Opryland" Nashville , TN