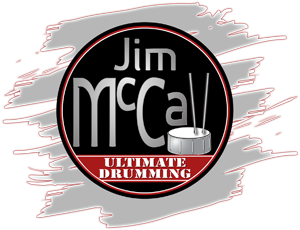 Online Drum Lessons With Ultimate Drumming
Learn to play the drums and take your musical journey to an all time high with drum lessons from Master Teacher Jim McCall.  Both on demand and one on one, real time video Drum Lessons are now available.  Explore the incredible world of drumming with Ultimate Drumming's online drum lessons and instruction books.  All skill levels and styles ranging from Rock and Roll, Country, Jazz, Pop, Blues, Reggae, Latin, African rhythms, disco, gospel and R&B.  Lessons also include popular fills for all genres, double bass drumming, rudimental studies for the drum set, drum to drum patterns and lessons in hand development and technique.
SALE Save Over 50% on all Products when Bundled!
Ultimate Drumming's Top Catagories
Free Drum Lessons
Ultimate Drumming offers free drum lessons for beginners and advanced drummers. The Ultimate Drumming Cool Latin Rhythm is our featured Free Drum Lesson. This exciting Latin beat sounds great and is really fun to play. Free Drum Lessons presented by Jim McCall.
Learn to play the drums like the greats!
LAKE TAHOE PRIVATE DRUM LESSONS
Jim McCall offers private drum lessons at ULTIMATE DRUMMING's studios in Lake Tahoe. For the absolute finest in private drum instruction, with the best results and loads of drumming fun, contact ULTIMATE DRUMMING at 530-314-1328. Drumming success is 100% guaranteed!
ONLINE DRUM LESSONS
ULTIMATE DRUMMING offers online drum lessons with several options to choose from.  Whether it be one on one, live video lessons or a pre packaged interactive video course, Jim will customize the perfect lesson plan so you can achieve the absolute best results with your drumming endeavor.
Are you needing Custom Drum Tracks for your next event? Contact
on your next music project!