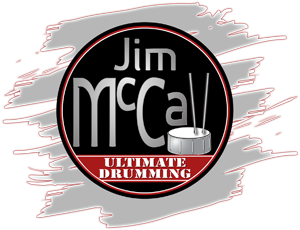 About Jim McCall
Jim McCall's focus and dedication on delivering quality drum lessons began with his own music studies at the age of 7 as a trumpet player with Charles Brady National Symphony Orchestra. He switched to drums at age 11 and was performing professionally in the night clubs of Georgetown, Washington D.C. by age 15. Jim studied music at George Mason University and privately with percussionist Ken Harbison of the National Symphony Orchestra.
ONLINE DRUM LESSONS AVAILABLE - Explore more of Jim's Online Drum Studio
In the 1980's Jim studied with Henry Adler of NYC for 8 years. Henry was the most respected educator of drumming and drumming technique in the world.   This incredible experience gave Jim the knowledge to become a successful music educator, clinician, author and  pro player. Over the years Jim has held the titles of  Music director for numerous Vegas production shows, band leader, music contractor, music school director, author, composer, session player and show drummer. Jim grew up playing R&R and jazz. In the late 1980's Jim was  hired as staff drummer at Opryland in Nashville TN.
Jim's musical experience includes performances with many of the country music headliners including Johnny Paycheck, Roy Clark, Gary Miller, Sylvia and Rick Nelson.   Jazz performances with Chuck Mangione and Easy Smith. Over the years Jim has played in just about all musical genres. He moved to NV in 1990 and was the drummer for the hit Vegas show "Legends in Concert", music director for Breck Walls award winning show "Bottoms Up" and music director for dinner theater "Club Zulu".   Most recent notable performances include the Jay Leno show, Larry the Cable Guy and Bill Cosby.
As an educator and performer Jim's drumming has reached millions. Jim has been recognized in Modern Drummer Magazine, Harmonix, Parade Magazine and the Washington Post.